Spotlight on Women's Health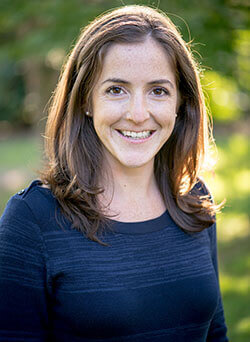 An Interview About Getting Covered Through the Health Insurance Marketplace: Katie Hay
December 19, 2016
Moving to a new city, starting a family, and even launching a new career can bring up questions about health insurance coverage. Katie Hay was able to do all three with the support of the Affordable Care Act and Health Insurance Marketplace. Now a yoga therapist based in North Carolina, Katie talks about her experience enrolling in a health insurance plan through the Marketplace and the positive impact her coverage has had on her family
Katie Hay is a North Carolina–based yoga therapist who has signed up for health coverage through the Health Insurance Marketplace for the past two years. Thanks to the Affordable Care Act, Katie and her husband were able to move from Washington, DC, to the mountains of Black Mountain, NC, and go into business for themselves.
Expand all
|
Collapse all
Q: Why did you and your husband decide to get covered through the Health Insurance Marketplace?
A: My husband and I left our traditional jobs in Washington, DC, to move to Black Mountain, North Carolina, almost three years ago to go into business for ourselves. I'm a yoga therapist, and he is an ultramarathon trail running coach and a writer. With this move, we lost health insurance through our employers. We had financial plans and a passion to do something we love in a place that we love. But we knew that health care was a major priority because we wanted to start a family. The Affordable Care Act helped push our plans into the reality of moving to the mountains to do what we love.
Q: What was it like enrolling in a plan through the Marketplace?
A: We used the HealthCare.gov website for the past two years to get covered. The website isn't perfect, but it was user-friendly and easy to navigate. When we had questions, we called the 1-800 phone number, and they were always helpful.
Q: Will you tell us about your current health insurance plan and how you chose it?
A: Right now, I am on one of the highest coverage plans you can get in North Carolina. I chose this plan because I am currently 8 months pregnant (!) and wanted the highest quality OB/GYN and delivery coverage. [Editor's Note: Maternity coverage is an essential benefit that all Marketplace plans must have, but each plan has different costs and levels of benefits.] I also go to a therapist every other week and wanted a low copay for these sessions. In addition, I wanted a plan with a low deductible to lower my total health care expenses if something big happened, like an unplanned surgery. This plan gave me the peace of mind I needed.
Q: Have you had any trouble getting coverage for your mental health care?
A: I have not had any trouble at all. I have a history of post-traumatic stress disorder (PTSD), anxiety, and depression. While I am doing well now, I see these sessions as vital to preventing the symptoms of these conditions from coming back. A low copay for any type of doctor's visit, including counseling, was important so that I can continue mental health care without worrying too much about cost.
Q: Do you qualify for any tax credits?
A: Yes, about a third of my monthly premium is covered through a tax credit. This makes my coverage more affordable, although my monthly rate is still about $250 out of pocket. I could have chosen a less expensive plan, but I wanted a safety net in case anything catastrophic were to happen. And I wanted to be able to choose my own doctors.
Q: Are you happy with your coverage?
A: Yes, I am very happy with my coverage. I have the freedom to choose my own doctors and get the care I need without worrying about unexpected bills. My insurance even covers a breast pump for no extra cost, which I will use when I go back to work after my maternity leave is over. While some people believe different things, there is, of course, no government panel that approves our medical decisions, and we have the same drug and treatment options as anyone who is not on a Marketplace plan. Once we chose a plan, we only had to deal with our insurance provider, not people from the government.
Q: How has the Marketplace changed your life?
A: Without the Marketplace and Affordable Care Act, my husband and I might still be working our DC jobs. While that was a great life, it was not our dream. We are now living the life we always imagined, and that is in large part because of our access to affordable health care. It came at just the right time. After our baby girl is born in December 2016, we hope we'll still have easy access to affordable and quality health care.
Q: Why is it important to you that you have health insurance?
A: As a woman who is about to become a new mom, I believe everyone should be able to get affordable health care. No one should have to make health care decisions based on cost. Health insurance is the reason I can make health care decisions that are best for me, and not just best for my wallet.
Q: What's your advice for someone who is new to using the Marketplace?
A: Take your time and become familiar with the site and the plans. Decide what level of coverage best fits your lifestyle and needs. If you do not understand something, look it up. I believe we must be our own advocates when it comes to our health, so carve out time to understand and choose a plan that is best for you. Then use it.
Q: Is there anything else you would like to add?
A: We recently applied for our 2017 coverage, which will look a lot like our 2016 coverage. Anticipating the changes to our family, we chose slightly different options. I am staying on the same plan, and my husband switched to a different plan with the same coverage with a slightly higher deductible. Our rate is actually going down, even though we are receiving a smaller tax credit than last year based on our income. Our baby will be covered starting on the day she's born, but we'll be able to choose the right plan to include her for 2017 after she's here.
We are incredibly grateful for the Affordable Care Act. Without it, our options would be much more limited and expensive. We may not have been able to afford health insurance and the health care needed for pregnancy and delivery. This access to affordable health care has changed our lives and made us feel so much more comfortable starting a family and going into business for ourselves.
Visit HealthCare.gov to learn more about enrolling in a Marketplace plan. January 31, 2017, is the last day to enroll in or change a 2017 health plan.
The statements and opinions in this interview are those of the interviewee and do not necessarily represent the views of the U.S. Department of Health and Human Services Office on Women's Health.