Spotlight on Women's Health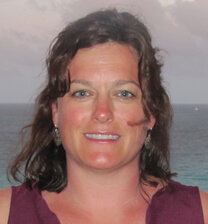 An Interview With a Woman Who Discusses the Facts About Sex With Her Kids: Karen Murphy
March 31, 2014
Parents will likely agree it's not easy to talk with their teens about sex. But, parents can be an important source for reliable and trustworthy information, especially on topics such as sex and how to protect yourself from sexually transmitted infections (STIs, also sometimes called STDs). Each year, young people 15 to 24 make up nearly half of the 20 million new cases of STIs in the United States. That's why Karen Murphy has made it a priority to talk with her teens about sex and STIs. It's her goal to maintain an ongoing dialogue with her kids, one where they feel comfortable asking questions. In honor of STI Awareness Month, read Karen's interview for tips on how to get the conversation started with your kids.
As the mother of two teenagers, Karen Murphy understands that an important part of parenting is talking with her kids about sex and STIs. She realizes it's not always easy to begin the discussion, but by developing an honest and ongoing conversation about these issues, she's helping her children make smart, informed decisions. She hopes sharing her story will help other parents tackle these tricky topics with their kids. Karen is a third-grade teacher in Massachusetts.
Expand all
|
Collapse all
Q: How many children do you have and how old are they?
A: I have two children. My daughter is 19 and a freshman in college. My son is 15 and a freshman in high school.
Q: How old were they when you first started talking with them about sex and STIs?
A: When my children were around 10 or 11, we started having little chats about the "birds and the bees." When my daughter appeared to be interested in boys when she was 13, we began talking about sex and STIs. At this point, we talked about appropriate behaviors and social media. We also talked about pregnancy and the importance of using condoms. I approached the topic of bringing her to the doctor for contraception when she decided to have relations with her boyfriend. I told her that by getting a prescription for the pill, she could prevent unplanned pregnancy. I also stressed that condoms still need to be used in order to prevent STIs.
Q: What's your recipe for success on maintaining positive communication between you and your kids?
A: First and foremost, remember that you were once their age and probably uncomfortable talking to your parents about sex. When a situation or topic arises, I try not to immediately voice my opinion or react. It's important to listen to your children, talk about the situation, listen to their opinion, and then offer your opinion. We have an open-door policy at our house.
Q: Will you also share some of the challenges you faced and how you overcame them?
A: Being divorced, one of the main challenges is keeping open communication between me and my ex. Although we both talk to our children about sex and STIs, I tend to relate to my daughter a little more and he tends to talk to my son a little more. My ex and I also communicate with each other. We try to tell each other what concerns we may have and what has been discussed.
Q: Why do you think it's important to talk about these things with your kids?
A: It's important for both girls and boys to understand that STIs can be transmitted to one another regardless of gender. It's also important for kids to realize that even if they have never had intercourse, STIs can be passed orally.
Q: What advice would you give to other parents about getting the conversation started?
A: First, if you are having trouble beginning the conversation, you can ask your children if they have talked about sex and STIs in health class. This may help jump-start your conversation. Most likely, kids will roll with this and give their opinions. I have also approached the subject by telling my kids about things that happened when I was in middle and high school.
Q: Do you have any tips on how to ensure your kids feel comfortable enough to come to you with questions?
A: Don't overreact! Realize that kids are faced with more challenges at an earlier age than we were, and reassure them that you won't be angry with them. Stress the importance of being safe when making the decision to become sexually active.
The statements and opinions in this blog post are those of the author and do not necessarily represent the views of the U.S. Department of Health and Human Services Office on Women's Health.