The Office on Women's Health Launches Prize Competition for Innovative Maternal Health Programs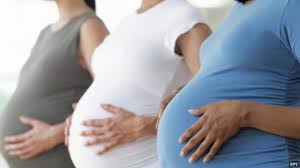 Are you looking for a chance to win a prize award? Submit your successful programs that improve maternal health!
On the heels of announcing more than $4 million to support maternal health initiatives, the Office on Women's Health (OWH) will host a series of webinars to explain the application process for its nationwide competitions. Individuals or organizations seeking to support innovative blood pressure control and breastfeeding initiatives are encouraged to participate.
OWH launched the Hypertension Innovator Award Competition and the Reducing Disparities in Breastfeeding Innovation Challenge earlier this month to identify, support, replicate, and expand programs designed to improve the health of pregnant or postpartum women and their infants. A central component of both competitions: reducing racial, ethnic, and geographic disparities in maternity care.
Although the majority of programs designed to address hypertension, or high blood pressure, focus on helping women after menopause, 13% of reproductive-age women exhibit chronic high blood pressure with one in every 12 to 17 U.S. pregnancies affected.
"We seek to close the knowledge gap and award programs working to prevent hypertension-related complications in pregnant and postpartum women," said Deputy Assistant Secretary for Women's Health and Director of the Office on Women's Health, Dorothy Fink, M.D.
Such complications contribute to pregnancy-related mortality, which is two to three times higher for Black, American Indian, and Alaska Native women than their White, Hispanic, and Asian Pacific Islander peers. Women living in rural communities also face greater barriers to care.
The OWH will award prizes for up to 20 programs with proven track records of helping women monitor and control high blood pressure. The goal: Improve rates of blood pressure control, thereby decreasing the risks of preeclampsia, stroke, and other serious complications during pregnancy and cardiovascular disease later in life.
In addition, 15 prizes will be awarded for innovative, evidence-based interventions targeting gaps in breastfeeding education, instruction and support. Programs must demonstrate effectiveness in boosting breastfeeding initiation and continuation rates and decreasing disparities among breastfeeding mothers.
Although breastfeeding reduces the risk of short- and long-term illnesses and diseases in both mother and baby, fewer non-Hispanic Black infants (73.7%) are ever breastfed compared with Asian infants (90%), non-Hispanic White infants (86.7%) and Hispanic infants (84.1%). Recent studies also demonstrate long-term cardiovascular health benefits for women who breastfeed.
"This prize competition will provide more mothers with the necessary tools to successfully improve their babies' health and lower their own risks for high blood pressure, diabetes, breast cancer, and ovarian cancer," said Deputy Assistant Secretary for Women's Health and Director of the Office on Women's Health, Dorothy Fink, M.D.